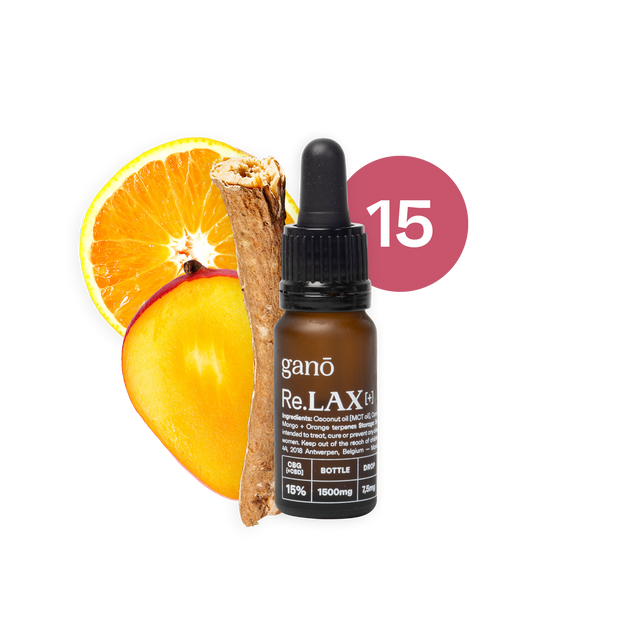 Re.LAX 15% OIL [CBG + CBD]
Extra Botanicals: Ashwagandha Root + [Orange & Mango terpenes]
CBG [10] + CBD [5]
Deze olie is de meest pure en actieve CBG olie op de markt. De olie stimuleert ontspanning en relaxatie. 

💧 5mg CBG + 2,5mg CBD per druppel
➕ Ashwagandha Root Extract
🍊🥭 Flavour: Orange & Mango
🎯 Broad spectrum (geen spoor van THC)
🌿

 

100% natuurlijk
📦 Levering binnen de 48 uur 
🔬 Geproduceerd en
getest in een erkend food-grade laboratorium
👩🏼‍⚕️ Beschikbaar bij de apotheek (CNK nummer 4498085) (Vanaf ma 13/06/22)
Ontspanning en relaxatie: Wetenschappelijk onderzoek heeft aangetoond dat CBG kalmerende eigenschappen heeft die een ontspannen gevoel stimuleren. 
Anti-stress: Uit onderzoek blijkt dat CBD het stresshormoon tempert. In combinatie met CBG zorgt deze olie voor een een body high waarbij je lichaam stressgevoelens laat gaan. 
Toepassing: Dagelijks. Gebruik deze olie dagelijks, of gebruik deze in je routine bij perioden van stress of bij momenten van ontspanning en relaxatie. 
Tip: Ook bij sensuele activiteiten kan deze olie helpen. 
CBG is de moeder der cannabinoïden en komt voor bij jonge hennepplanten. Naargelang de hennepplant langer in de grond staat, evolueert CBG in tal van andere cannabinoïden. Net daarom is CBG een explosieve cannabinoïde met hoge graad van efficiëntie. Uit studies bleek dat het effect van CBG optimaal is in combinatie met CBD. Daarom ontwikkelde Ganō Care een formule met een hoog gehalte aan de explosieve CBG (10%) en een rijke concentratie CBD (5%). 
Naast MCT olie, CBG en CBD bevat deze formule ashwagandha* extract en het terpeen myrcene wat je ook terugvindt in mango en sinaasvruchten. 
*Ashwagandha is een geneeskrachtig kruid dat verschillende gezondheidsvoordelen kan bieden, zoals een verbeterde bloedsuikerspiegel, ontstekingen, stemming, geheugen, stress en angst, evenals een boost in spierkracht.